JEZEBEL:
Heya, Avid Fans! Welcome to Cat and Muse, the only Internet talk-radio show (that we know of) that is by and about author characters. I'm your host, the former demon Jezebel, coming at you live from the sordid depths of Jackie Kessler's website. With me, as always, is the lovely, lamentable Muse of Tragedy, forced to speak in clichés and pop-culture references…Melpomene!
[APPLAUSE]
Hi, Mel!

MELPOMENE:
YO.
JEZ:
Hey, I love your POLKA WILL NEVER DIE t-shirt! Looks like you knew about our next guest, huh?
MEL:
[GRINS] THE CAT'S OUT OF THE BAG.
JEZ:
Indeed! Well then, without further ado…
Our next guest tonight came all the way from Chicago to speak to us. You've certainly heard of him, and not just because he's the only wizard in the phone book. Praised by Publishers Weekly, Booklist, and pretty much everyone in the known universe, Jim Butcher's DRESDEN FILES continues to hit bestseller lists, as well as dive into roleplaying games and comic books.
Boys and girls, let's give a standing ovation to Jim Butcher's trenchcoated protagonist…Harry Dresden!

[APPLAUSE]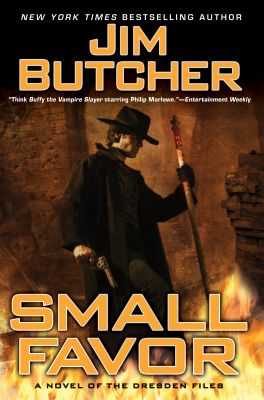 Heya, Harry! Before we get started, first things first: I am a former demon. I'm just a plain ol' mortal now, complete with a squishy soul. There will be no attempts to slaughter the host.
DRESDEN:
What?
JEZ:
I mean, that would be rude, don't you think?
DRESDEN:
Yeah, um. I don't know what you've heard about m—
JEZ:
[SMILES SWEETLY] And very bad PR for you. Okay, sweetie?
DRESDEN:
Ah. Sure. Okay. I mean, when in Rome, right?
JEZ:
Exactly! Let's see. In eight short years, you've picked fights with werewolves, vampires, mages, faeries, ghosts, demons, a talk show host, fallen angels…and the list is only getting longer.

DRESDEN:
Hey, that's not fair.
JEZ:
No?
DRESDEN:
The talk show host started it, not me.
JEZ:
Heh. Of course. You've certainly come a long way since you opened up shop as Chicago's only wizard who advertised in the phone book. Tell me, what's the hardest part about being a wizard?
DRESDEN:
Public appearances, apparently.
JEZ:
Hah! What about the best part?
DRESDEN:
Well. All the time you get to meet new, um, people?
JEZ:
Loosely speaking, of course. Magic Johnson: false advertising, or was the man truly a wizard on the court?
DRESDEN:
It isn't Magic's fault that he played in LA, not Chicago. And that he wasn't Michael Jordan. Jordan, now there's a freaking mystery.

JEZ:
Do tell.
DRESDEN:
I never did figure out how he did that stuff without being an immortal or making a bargain with dark powers. Uh, no offense meant.
JEZ:
None taken. You started off not having any family when the DRESDEN FILES kicked off, and now you have a half-brother, a place in the Carpenter household, and an omniscient entity with a penchant for kitties who considers you someone dear. So, is family all it's cracked up to be?

DRESDEN:
It's freaking complicated, is what it is. There's nothing that makes you more insane than family. Or more happy. Or more exasperated. Or more . . . secure.
JEZ:
[ARCHES EYEBROW] Sounds like family is really just collateral that can be used against you.
DRESDEN:
Not by anything that likes having entrails instead of extrails.
JEZ:
Ooh, I love it when you get all menacing! [FANS SELF]
DRESDEN:
[BLUSHES]
JEZ:
You've fought side by side with Knights of the Cross. You've seen ghosts in action. You've had brushes with divine entities. What's your theory on the afterlife? Or are you more of a Live For the Now sort of fellow?
DRESDEN:
Are you kidding me? Like the world isn't big and complicated enough all by itself?
JEZ:
[CHUCKLES] No, really. Fess up.

DRESDEN:
Maybe I just have a limited attention span, but life is keeping me pretty busy. I'm going to be dead a lot longer than I'm alive. Plenty of time to figure out the afterlife then.
MEL:
WHY DO TODAY WHAT YOU CAN PUT OFF UNTIL TOMORROW?
JEZ:
That's our Harry: always practical. Why do you think everyone from fallen angels to the Winter Queen wants to claim your soul? Is it just an Evil Overlord thing, or do you think there's something special about your particular soul that makes all the uberpowerful entities go "Oooh, yum"?
DRESDEN:
Nah. Every soul is special. They're all beautiful. They're all far more significant than anyone on this rock realizes. I think when people are at their best, they're acting in accordance with their soul.

JEZ:
What about serial killers, or thieves, or politicians?
DRESDEN:
The ones who have gone bad don't have bad souls. They've just given up on keeping in touch with them.
JEZ:
Aw. You sound like a romantic. So what is it about your soul that attracts the big bad entities to it, and you?
DRESDEN:
Truth be told, I don't think those entities can really put a claim on anyone's soul.
JEZ:
[SMILES] Aren't you just the cutest thing?
DRESDEN:
Maybe they all just have big holes in them where a soul should be, and think that they can somehow fit mine in, like swapping out an old alternator or something.
JEZ:
Maybe. I guess we'll have to keep reading the series to find out more. Speaking of the books, sex magic comes up in STORM FRONT. Tell us true, Harry: is the nookie mojo the real reason you decided to become a wizard?
DRESDEN:
Um. No.
JEZ:
Really? So why did you advertise about being a wizard?
DRESDEN:
I mostly did that because, you know, I wanted to eat and live in a building and stuff. I mean, that's why I do it professionally.
JEZ:
But that's not why you started working with magic?
DRESDEN:
I didn't have a whole lot of choice in the matter. When the power is in you, it's in you. I could try to not use it for a few decades until it went away, I guess, but that'd put a serious cramp in my investigating style.
JEZ:
Heh. Yeah, I can see that. Speaking of sex—hey, I may be a former succubus, but I'm not dead—you've had a chance to get physical with Susan Rodriguez both when she was human and when she was a vampire. Which was better?
DRESDEN:
[BLUSHES] Uh. It, um. Is it a little warm in here?
JEZ:
Just you blushing, sweetie.

MEL:
SOME LIKE IT HOT.
JEZ:
And then there's Elaine Mallory. Former…what, sister? Is it true that incest is best?
DRESDEN:
Oh dear God.
JEZ:
What about the fabulous Karrin Murphy? You know that she's basically perfect for you, right? So what's keeping you from taking your relationship with her to the next step?
DRESDEN:
Perfect except for the fact that she doesn't want to be with me. Not . . . [TAKES A DEEP BREATH] Look, it's complicated. All right?
JEZ:
Fine, fine. And then there's Anastasia Luccio. [EYES DRESDEN] Really? REALLY?

DRESDEN:
She's funny. She isn't threatened by the fact that I've got these abilities. She knows the risks of the world I move in. We share some of the same interests. And she likes me. Both of us had kinda been dateless for a while. Like, years. [PAUSES] Her more than me, maybe.
JEZ:
So you go for the older, more experienced sort of woman, is that it?
DRESDEN:
It's nice to . . . just be with someone. Not alone. We see each other sometimes. We like and respect one another. We don't ask anything of each other. [GLARES] And why the hell couldn't you ask me some less personal questions?
JEZ:
But sweetie, where's the fun in that?

DRESDEN:
[CLENCHES TEETH] Please.
MEL:
THE CUSTOMER IS ALWAYS RIGHT.
JEZ:
Well, since you said "please"… [GLANCES AT CUE CARDS] Let's talk about Thomas Raith. How does it feel, having a brother who's more handsome and has far more sexual prowess than you?
DRESDEN:
More . . . ?
JEZ:
Or does that not matter, because of the whole "yeah, but he's an incubus" thing?
DRESDEN:
Look, it isn't like anyone's ever gone out and measured our, uh, prowess.
JEZ:
[BURSTS OUT LAUGHING]
DRESDEN:
Okay, granted, for a while there he was getting with more women in a week than I have in my entire life, but quantity isn't everything.
MEL:
QUALITY, NOT QUANTITY.
JEZ:
Well, that depends…
DRESDEN:
Besides, I wouldn't trade places with Thomas for the world. Oh sure, his abilities sound great on paper, but when you apply it to real life? It makes for a lot more trouble than anything else. And there's a price tag. There always is.
JEZ:
This is very true. Okay, monster time! There are three courts of vampires: the White, where all the nookie is; the Red, with beasties that try to pass themselves off as human; and the Black, with…well, yuck. Which court is most terrifying?
DRESDEN:
The White Court. Hands down.
JEZ:
Wow. I wouldn't have picked that one.
DRESDEN:
They aren't the real heavyweights in a fight, but . . . Hell's bells, you should see what they can do to people.
JEZ:
'Splain, please.
DRESDEN:
A Black Court vampire might kill you. A Red Court vampire might drink some of your blood, maybe even turn you into one of them. But the White Court… they eat you alive. One bite at a time, until they hollow you out, leave a pretty shell and blank eyes with nothing inside it. They can get into your head, make you think things, feel things, do things. With the other vamps, at least you get to feel afraid. With the Whites, you feel what they want you to feel. Let them in, and they can change who you are. That's scary.
JEZ:
Yeah, it is. [PAUSES] So what the Hell were you thinking, starting a freaking war with the Red Court?
DRESDEN:
What can I tell you, Jez? They had my girl. I took her back. I'd do it again.
JEZ:
[NODS] Good. Let's see. You've had your fair share of evil in your life. No wonder I find you so damn attractive.
DRESDEN:
[BLUSHES]
JEZ:
And it all started when you killed your mentor, Justin DuMorne. Was that an Oedipus fantasy come to life, or was there more to it than that?
DRESDEN:
Self defense.
MEL:
THAT'S WHAT THEY ALL SAY.
DRESDEN:
I don't know what he had in mind for me, exactly, but I wasn't going to spend the rest of my life playing his version of Mister Hendricks. I refused to let him do that to me. He had no intention of letting me go my own way.
JEZ:
So you decided to kill him? Kudos on the permanent solution!
DRESDEN:
If I hadn't killed him, Justin would have killed me. At the end of the day, that's all there is to it.
JEZ:
Gotcha. What about Bob? And no, I don't mean the movie. Is he your assistant? Slave? Tool? Friend?

DRESDEN:
Bob the Skull is . . . friend probably isn't the right word. He's a spirit of intellect. He's never had things like a body, or a metabolism, or a conscience. I mean, there's a limited amount of empathy he can have for a mortal meat sack like me. And I'm just one more wizard in a long line of them that he's worked with.
JEZ:
"Mortal meat sack." Hee, hee, hee…
DRESDEN:
But all that said, I'm his friend, even if he won't ever understand why. He's stood by me when I've needed him, given me advice, and he's always honest. That's a hell of a rare thing.
JEZ:
So along with keeping him eye-socket-deep in romance novels—good man, by the way—if he needed help, you would drop everything to help him?
DRESDEN:
[NODS] Bob is family. What I said before, regarding entrails.
JEZ:
Excellent. What's better: sex or chocolate?
DRESDEN:
Depends on your viewpoint, I guess. Chocolate is a hell of a lot easier to market. And get.
JEZ:
Aw, poor sweetie. I could, you know, help you in that regard…
DRESDEN:
[QUICKLY] On the other hand, I've gone a while without chocolate before and managed just fine. You go short of sex and you kind of notice.
JEZ:
You've had your fair share of pain, haven't you? Growing up with Justin Dumorne…learning the truth about Ebenezar McCoy's role in the White Council…losing Susan to the vampires. Is it true that whatever doesn't kill you makes you stronger? Or is that basically [BLEEP], and pain really and truly sucks? Or do you think there's a Grand Plan at work?
DRESDEN:
Pain is a byproduct of life. That's the truth. Life sometimes sucks. That's true for everyone. But if you don't face the pain and the suck, you don't ever get the other things either. Laughter. Joy. Love. Pain passes, but those things are worth fighting for. Worth dying for.
JEZ:
Spoken like a true hero. Don't worry. I won't hold that against you.
DRESDEN:
I don't know about a Grand Plan. I'm pretty sure that there might be some Grand Intentions. But we know all about good intentions.
JEZ:
Heh. Yeah, we do.
DRESDEN:
I think there's more out there than we can easily see or understand. And I think that at least some of whatever's out there is on our side. And I know damned well that some of it isn't.
JEZ:
Oh yeah. Absolutely. And I in no way, shape, or form am referring to me. Promise.
DRESDEN:
I'm sure there's an Almighty out there somewhere. I just have got less of a clue than ever about what the Almighty might be like.
JEZ:
He's a quiet one, that's for sure. You live with Mister, the tom of all tom cats, and Mouse, the silent but studly super dog. Dogs and cats, living together. Does this mean that human sacrifice and mass hysteria come next?
DRESDEN:
Not in my town.
JEZ:
See, this is why you don't live in New York City. Moving on.…You've survived some pretty terrifying things—wrath of fae queens, power-hungry necromancers, rabid FBI agents, more vampires than you can shake a blood bank at, fallen angels clamoring for your immortal soul. You still owe a favor to the Queen of Air and Darkness. And perhaps worst of all, you have a teenager as an apprentice. Really, Harry…does your Dear Creator hate you?
DRESDEN:
Somebody does. Or somebody's having one hell of a good time at my expense. I'm not sure which.
JEZ:
So, in any of the DRESDEN FILES series, were there any parts of the story where you were like, Jim, dude, what the Hell are you making me do? Or were you and your Creator in sync the entire time?
DRESDEN:
Oh, that nutball. The one having a good laugh at my expense. If you see him, would you let me know? I'm going to punch him in the nose.
JEZ:
You bet. If you had your way, what would you change about any of the DRESDEN FILES books?

DRESDEN:
I'm not sure. Maybe I'd go get myself a cool hat, like everyone keeps expecting me to have.
JEZ:
Probably due to the awesomely cool covers on your hardcover books.
DRESDEN:
[SHRUGS] I've got an overly large head, apparently. It's hard to find hats that fit.
JEZ:
Tell me one thing in the real world that you wish you could change.
DRESDEN:
I'd like everyone to see the result when they turned away and did nothing. People have a stunning ability to pretend that things don't exist if they can look somewhere else.
JEZ:
[NODS] They do indeed.
DRESDEN:
I think if more folks had to own up to what they were busy denying, we might have made the world a nicer place by now. Or, hell, at least a little cleaner.
JEZ:
Word association time! Tell us the first thing that pops into your mind when I say…Fairy godmother.
DRESDEN:
Popsicle.
JEZ:
Pizzeria Uno.
DRESDEN:
Bribe money.
JEZ:
Senior Council.
DRESDEN:
The Godfather.
JEZ:
The SciFi Channel.
DRESDEN:
There's a SciFi Channel?
JEZ:
Heh. Nice reissued covers for your series. Love the trench coat. So seriously now, are you going to start wearing a hat?
DRESDEN:
Like I said, maybe I should. I mean, it worked for Indy, right? You could tell when he was in really serious danger. The hat would come off.
JEZ:
Damn straight. And he always got it back. Quick: deathmatch between Johnny Marcone and Kincaid. Who wins?
DRESDEN:
With my luck? Marcone pays Kincaid off, and they both come after me.
JEZ:
[SNORTS LAUGHTER]
MEL:
MAKE YOUR OWN LUCK.
JEZ:
The Black Council: serious threat from evil wizards, or a red herring? What do you really think your Creator is up to?
DRESDEN:
"Red herring." Gosh, that would be nice. Nah, they're real. And I suspect that at least some of them are people I already know.
JEZ:
Yikes. That sucks. Let's switch gears. What's your romantic fantasy? [WAGGLES EYEBROWS] You can be as graphic as you want. In fact, I insist.
DRESDEN:
Um. Yeah. Really, really warm in here. Could you just stop with the crossing of the legs, please?
JEZ:
Heh, heh, heh…Finally, if you could be evil for one day—you, not an evil entity pretending to be you just to destroy all those you hold dear—what would you use your powers for?
DRESDEN:
If I was really evil? I'd stay home.
JEZ:
[BLINKS] For real?
DRESDEN:
I'd figure out a good way to have a TV and hot showers. Lie to girls to get them to sleep with me. Ignore everyone's problems that didn't somehow benefit me by being solved. Ignore my responsibilities. [PAUSES] Evil's about which way you're focused.
JEZ:
Hmm. I hadn't really thought about it like that before.
DRESDEN:
The worst people you run into never really think that they're evil.
JEZ:
True.
DRESDEN:
They tell themselves that they're doing what is necessary, or making hard choices, or whatever the hell justification they have for doing what they do. Or they're just broken, somehow. They just never work out that other people are real, not just cardboard cut-outs to be played with.
JEZ:
Trust me when I say that actions speak louder than words. Everyone gets what's coming to them in the end.
DRESDEN:
Evil isn't the real threat to the world. Stupid is just as destructive as Evil, maybe more so, and it's a hell of a lot more common. What we really need is a crusade against Stupid. That might actually make a difference.
JEZ:
Sign me up, Harry. Stupidity isn't a sin, but it should be. And I'm not just saying that because you're sexy and powerful and the thing of which dreams are made. Thank you so much for being here. Is there anything I can do for you before you go? [MEANINGFUL PAUSE] Anything at all?
DRESDEN:
Well, now that you mention it… can you validate parking? Because I'm… sort of between paychecks at the moment.
JEZ:
Heh. You bet, sweetie. You bet.
Once again, a huge round of applause for Chicago's only wizard in the book, the star of Jim Butcher's DRESDEN FILES…Harry Dresden!
[APPLAUSE]


[No, this isn't Harry Dresden. But it is his Dear Creator, Jim Butcher.]
The DRESDEN FILES include:
STORM FRONT
FOOL MOON
GRAVE PERIL
SUMMER KNIGHT
DEATH MASKS
BLOOD RITES
DEAD BEAT
PROVEN GUILTY
WHITE NIGHT
SMALL FAVOR
You can get the books in the DRESDEN FILES at Mysterious Galaxy, Flights of Fantasy, Barnes and Noble, Borders, Amazon, and…well, as Harry would say, hell's bells, anywhere books are sold.
And don't forget about BACKUP, Thomas's novelette, coming out in October 2008, and WELCOME TO THE JUNGLE, the first story arc in the comic book prequel for the DRESDEN FILES.
There are also the Omnibus editions, including WIZARD FOR HIRE, WIZARD BY TRADE, WIZARD AT LARGE, and WIZARD UNDER FIRE. I have no idea where these are available, but Wikipedia says they're out there.
That's it for this episode of Cat and Muse! Until next time, remember: love your inner demon.