JEZEBEL:
Heya, Avid Fans! Welcome once again to Cat and Muse, the only Internet talk-radio show run by fictional characters—that's our story, and we're sticking with it! I'm your host, the former demon Jezebel, coming at you live from the sordid depths of Jackie Kessler's website. With me, as (almost) always, is the Muse of Tragedy—the lovely, lamentable Melpomene!
[APPLAUSE]
Hi, Mel!
MELPOMENE:
Yo.
JEZ:
Nice work on Wall Street, by the way.

MEL:
IT WASN'T ME. IT WAS THE ONE-ARMED MAN.
JEZ:
Heh. As you say, sweetie.
Our next guest on Cat and Muse is kicking ass and taking names. Romantic Times says in its 4.5-star review of LEGACY: "Gifted Stein continues to develop her world and characters, giving them realistic weaknesses and flaws. Urban fantasy with true depth and flair!" Loves Vampires calls THE WATCHER "Recommended vampire reading!" The Best Reviews praises BLOOD DRIVE: "Jeanne C. Stein takes on the vampire mythos in her own unique manner that makes for an enthralling vampire thriller. Readers of Laurell K. Hamilton, Tanya Huff and Charlaine Harris will thoroughly enjoy this fast-paced novel."
And Publishers Weekly says of THE BECOMING: "With plot twists, engaging characters and smart writing, this first installment in a new supernatural series has all the marks of a hit. Anna Strong lives up to her name: equally tenacious and vulnerable, she's a heroine with the charm, savvy and intelligence that fans of Laurell K. Hamilton and Kim Harrison will be happy to root for. As Anna tries to temper her new bloodlust with her lingering humanity, the trauma of her "becoming" is as compelling as the action-packed story line. If this debut novel is any indication, Stein has a fine career ahead of her."
Boys and girls, let's hear it for the star of bestselling author Jeanne Stein's Anna Strong, Vampire series…Anna Strong!
[APPLAUSE]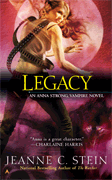 Hi, Anna!
ANNA:
Jez and Mel, it's a pleasure to be here. Really. I mean it. Otherwise I'd be knee deep in the [BLEEP] Jeanne has planned for me in the next book.
JEZ:
[GRINS] I do so appreciate an honest vampire!
[NOTE TO READERS: SPOILERS AHEAD. SERIOUSLY. CONSIDER THIS WARNING WRITTEN IN BLOOD.]
JEZ:
So what's going on with you, sweetie? You've come a long way since you were, you know, human.
ANNA:
Tell me about it. In LEGACY, I'm battling a werewolf who claims to be Avery's widow. You remember Avery, right? He's the bastard who tried to kill my friend, David, and burned down my house.
JEZ:
Heh. Oh yeah. I remember him.
ANNA:
Daun would have loved him. In fact, I hope he's entertaining him right now in Hell.
JEZ:
Avery is the sort that Daun would keep alive—so to speak—for kicks and giggles. Definitely. Sounds like you have your hands full in the book. In my experience, the only thing worse than dealing with vengeful widows is dealing with divorce lawyers. What was the worst thing for you in LEGACY?
ANNA:
Finding out that Avery wasn't dead.
JEZ:
Get outta here.
ANNA:
I staked the bastard, and he found a way to come back.
JEZ:
Yeah, I can see that being a little upsetting. But seriously, that's the worst thing?
ANNA:
[ARCHES EYEBROW] How about having to fight a werewolf who can kill you with one bite?
JEZ:
Yeah, okay, that'd do it.
ANNA:
Nothing like having one's hands tied behind one's back.
JEZ:
Hey now, a little B&D can be a lot of fun. [COUGHS] Anything good happen to you in the book? Like maybe B&D?
ANNA:
[LAUGHS] Meeting Sophie.
JEZ:
'Splain, please.
ANNA:
She's a witch with a real split personality—she's sharing her body and mind with an old soul vampire.
MEL:
TWO FOR THE PRICE OF ONE.
ANNA:
I really like her and hope Jeanne will bring her back again. She understands me, and there aren't many that do.

JEZ:
Hey, question for you: you're all noir-slash-urban fantasy, right? Isn't it against code for you not to have a duster, or a trench coat, or something like that?
ANNA:
[SIGHS] I want to get a duster. I don't know why I don't have one yet. [GLANCES AT COMPUTER SCREEN] Hear that, Jeanne?
JEZ:
Heh, good luck with that. Okay, spill. You and Lance. Who's on top?
ANNA:
Whoever wants to be.
JEZ:
That is so democratic.
ANNA:
He's the best lover I've ever had. [GLANCES BELOW] Hear that, Avery?
JEZ:
[LAUGHS]

MEL:
HEAVEN HAS NO RAGE LIKE LOVE TO HARTED TURNED.
JEZ:
Speaking of love, what's your romantic fantasy?
ANNA:
I'm lucky—I'm living my fantasy. Lance is adventurous and—how can I put this—extremely energetic.
JEZ:
Ooh. Details!
ANNA:
Since we're both vampires, we can bite, suck and [BLEEP] our brains out. It doesn't hurt, either, that he's a model and drop-dead gorgeous.
JEZ:
Well said! Which is better: sex or chocolate?
ANNA:
Hello: vampire. What do you think?
JEZ:
I think I should have asked which is better, sex or the blood of a chocoholic. Heh.
ANNA:
Now you're talking.
JEZ:
So, in LEGACY, were there any parts of the story where you were like, Jeanne, sweetie, what the Hell are you making me do? Or were you and your Creator in sync the entire time?
ANNA:
Bringing Avery back was a pretty sucky thing to hit me with. It caught me totally off guard. I don't know how she comes up with this stuff.

JEZ:
If she's anything like my own Creator, she's just evil to the core. If you had your way, what would you change about LEGACY?
ANNA:
I'd have more bed time with Lance.
JEZ:
Hell yeah!
ANNA:
We were only together once before she sent him off to a photo shoot in New York for the new Abercrombie & Fitch catalog.
JEZ:
That [BLEEP]. They say that turnabout is fair play. If you could make Jeanne do anything, what would it be?
ANNA:
Change this stupid rule about not being able to see my reflection in a mirror. I may be kick-ass, but I still want to look good. And it would be so much easier if I didn't have to avoid mirrors. You may not notice it because you don't have the problem, but mirrors are [BLEEP] EVERYWHERE. It's a royal pain in the ass.
JEZ:
Aw, poor sweetie. Besides mirrors, tell me one thing in the real world that you wish you could change.
ANNA:
I wish we vampires could come out of the closet.
JEZ:
Wonder what Sookie Stackhouse would say to that…heh…
ANNA:
We're not the monsters we're thought to be. Well, maybe some of us are. But there's a lot of misconception about vampires—humans wreak more havoc against each other than vampires do.
JEZ:
I know. If that weren't the case, Hell wouldn't be so damn crowded. What about in the publishing world—what would you change in that?
ANNA:
I don't know much about that. Jeanne handles all the publishing stuff.
JEZ:
From what I understand, you should consider yourself lucky.
ANNA:
[SHRUGS] I have heard her complain about the lack of respect given genre writers. There are some damned good writers producing damned good books that get overlooked because they're not "literature." Your creator is one of them, btw.
JEZ:
[LAUGHS] Oh, bless me, don't go puffing up Jackie's ego! I need her all fragile and easily distracted, otherwise I'd never get her to write the stuff I want her to write. But you're a sweetie for saying that. If LEGACY goes Hollywood, who should play you in the movie?
ANNA:
I see myself as kind of an Angelina-Jolie-as-Lara-Croft kind of gal. With short hair and thinner lips.
JEZ:
Nice.
ANNA:
'Course, since I haven't had a carb in nearly a year, my boobs aren't as big either.
JEZ:
Oh, like hers are?
MEL:
IT'S A KIND OF MAGIC.
JEZ:
What about Lance? Who'd play him? And what about Daniel?
ANNA:
Christian Bale. Though he's gorgeous enough to play himself. Daniel Frey could be played by Luke Wilson.
JEZ:
Heh.
ANNA:
What? You were talking big budget flick, right?
JEZ:
Of course, sweetie! Got to dream big. Finally, if you could be evil for one day, and you were granted spiffy evil powers, what would the powers be and how would you use them?
ANNA:
I deal with evil everyday, Jezzie. Some say I AM evil.
JEZ:
Not that there's anything wrong with that.
ANNA:
But just to be contrary, if I had ultimate evil power, I'd probably blast all the self-righteous, bigoted, intolerant [BLEEP] into a pit of boiling oil, where they'd be forced to listen to each other pontificate while their flesh burned for all eternity.
JEZ:
[BURSTS OUT LAUGHING]
ANNA:
Fitting punishment, wouldn't you say?
JEZ:
Oh, bless me, remind me to never, ever piss you off!
Avid Fans, give another hot round of applause to the star of Jeanne Stein's Anna Strong, Vampire series…Anna Strong!
[APPLAUSE]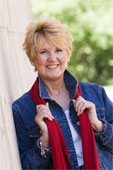 [No, this isn't Anna. But it is her Dear Creator, Jeanne Stein.]
The series includes:
THE BECOMING
BLOOD DRIVE
THE WATCHER
LEGACY
You can get LEGACY and the other books in the series at Barnes and Noble, Mysterious Galaxy and other independent booksellers, Amazon, and other fine bookstores near you.
That's it for this episode of Cat and Muse! Until next time, remember: love your inner demon.