JEZEBEL:
Heya, Avid Fans! It's time once again for Cat and Muse. I'm your host, the former demon Jezebel, coming at you live from the sordid depths of Jackie Kessler's website. With me, as always, is the producer of Cat and Muse, the cliché-speaking, pop culture-referencing, incredibly tragic fashion victim…the Muse of Tragedy, Melpomene!
[APPLAUSE]
Hi, Mel!
MELPOMENE:
YO.
JEZ:
Our next guest on Cat and Muse has precious little patience for foolishness. But that doesn't stop us from interviewing him!

MEL:
WHAT KIND OF FOOL AM I?
JEZ:
Leading question, Mel.
Says Romantic Times in its Top Pick 4.5-star review: "Hendrix created a fantastic concept when she brought the Immortal Brotherhood series to life. Part Ladyhawk, all enthralling, the second installment, based on the Robin Hood legend, has passion, adventure, history and characters you'll treasure. It's a winner!"
Mmm. Robin Hood. Now there's a man who knows that women go crazy for good-guy bad guys. Avid Fans, give a huge round of applause to the star of Lisa Hendrix's new novel, IMMORTAL OUTLAW…Steinarr the Proud!
[APPLAUSE]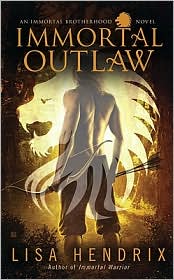 Heya, Steinarr!
STEINARR:
My ladies. I hope the day finds you both well.
JEZ:
Ooh. Chivalry. Nice. So I hear your book is pretty cool.
STEIN:
Cool? I assure you, any book about me will not lack heat!
JEZ:
Heh. Oh, sweetie, this is going to be fun. How about a single line describing IMMORTAL OUTLAW, for those who don't know the book?
STEIN:
I like the one my creator's publisher wrote. "For centuries he's hidden in the woods. Now a maid has come to lead him out."
JEZ:
Ooooh!
STEIN:
For that is what happened, thanks be to Odin. But here is another, slightly more revealing version that suits me, as well. "Lured by Marian's kisses, Steinarr finds himself at the center of a growing outlaw legend. But a dark sorceress gathers her magic to destroy them. How can he protect the maid he so desperately wants for his own?"
JEZ:
[FANS SELF] OOOH!
STEIN:
And I do want her, beyond reason. Beyond life itself.
JEZ:
So have you really been hiding in the woods for centuries? Or is that just a euphemism for being celibate?
STEIN:
I have spent much of the last four hundreds of years in the forests of this accursed land of England, trying to avoid being caught and tortured by those who do not understand the curse that the sorceress Cwen laid upon me and the others, condemning us to these half lives.
MEL:
CURSES. FOILED AGAIN.
JEZ:
Tell us more about the evil whammy Cwen laid on you.
STEIN:
For myself, I am a man during the day and a lion by night, so dangerous that I cannot linger near other men.
JEZ:
Hmm. That doesn't sound too bad, truth be told…
STEIN:
Have you ever been a lion?
JEZ:
Can't say as I have.
STEIN:
It is all ridiculous, or would be, if the beast were not so foully dangerous. And if it did not pain me so to change. Each dusk as I shift from man to animal, claws split my fingertips, my body deforms to become a lion's, hair and mane sprout from my skin, fangs tear through my jaw. The agony is terrible, and it repeats at dawn as I shift back to man. And so it has gone, twice each day, for all these four hundreds of years.
JEZ:
Yeah, that would be a curse, all right.
STEIN:
[NODS] Now I find myself saddled with this annoying, enchanting female who has set my world on its head.
JEZ:
Heh. Ah, true love…
STEIN:
But the worst of it? That I cannot pass even a single night in her arms and have no prospect of ever doing so. Aye, of all the things I have suffered since Cwen cursed us, that is the worst by far.
JEZ:
Aw. Poor sweetie. Is everything doom and gloom in the book?
STEIN:
There was very little good at all, but now, suddenly, there is Marian, and though I did not realize it at the outset, she has brought all good with her.
JEZ:
Details, please.
STEIN:
Imagine it: living in the forest deep, alone, with no friend but your horse, who is also a man during the time when you are animal. Dangerous to all, even to that solitary friend.
JEZ:
I am going to be a good former demon and not make a joke about bestiality. Nope. Not me.
STEIN:
And then a fair stranger comes along and offers herself to you in exchange for your aid. Offers herself fully, when you have not had a woman at all for two years, and have had naught but whores for centuries.
MEL:
GOOD THINGS COME TO THOSE WHO WAIT.
STEIN:
'Tis your task, your privilege, to escort her, alone, all over Nottinghamshire, and 'tis your reward to enjoy her body whenever you wish. [SMILES] Could there be anything better?
JEZ:
Enough with the foreplay. Tell us all about you and Marian. Who's on top? Or are there other preferred positions?
STEIN:
I love nothing more than to pull my Marian atop me and watch her use me as she finds her pleasure. [GRINS] Except perhaps to taste her and listen to her moan.
JEZ:
[FANS SELF] Now that's what I'm talking about! You obviously have the sex covered. But what about the romance? What's your romantic fantasy?
STEIN:
That night I mentioned. A whole, blessed night in Marian's arms would please me more than any particular act.
JEZ:
Awwww.
MEL:
LOVE ME TENDER.
STEIN:
Besides, it is Marian who has the imagination and the desire to try all. [SMILES WRYLY] Perhaps you should ask her what would most please her. That is what I do, each time. She always has most interesting ideas, and a willingness that excites me beyond measure.
JEZ:
So inquiring minds want to know: where did a maid learn such naughty things?
STEIN:
[CHUCKLES] Well, that would be giving away too much.
JEZ:
Fair enough. Which is better: sex or chocolate?
STEIN:
What is chocolate, and how could it possibly compare with sex?
JEZ:
Oh, sweetie. Stick around after the show. I'm taking you out for some Godiva. And I'm not talking nudes on horses. Although we can do that too. In IMMORTAL OUTLAW, were there any parts of the story where you were like, Lisa sweetie, what in the name of Hel are you making me do? Or were you and your Creator in sync the entire time?
STEIN:
I am a warrior. I can bear anything. But if I had been able to reach out of the pages, I would have slit her throat for what she put Ari and young Robin through.
JEZ:
Oooh, violence! If you had your way, what would you change about IMMORTAL OUTLAW?
STEIN:
My story is what it is. There is nothing that could be changed.
JEZ:
Very Zen of you. If you could make Lisa do anything, what would it be?
STEIN:
I would be most grateful if she would kill Cwen. But knowing the ways of this dark sorceress, I fear my creator has no more power than I in that regard.
JEZ:
[NODS] Yeah, when it comes to magic, all bets are off.
STEIN:
I would also make her write more quickly, so that my companions could have their chance at happiness sooner.
JEZ:
You're just a softie under all those delicious muscles, aren't you? If IMMORTAL OUTLAW goes Hollywood, who should play you in the movie?
STEIN:
I do not know what the Holly-Wood is, but my creator says a man called Ewan MacGregor could pass for me in a play, for he resembles me a little and knows how to wield a sword.
JEZ:
Very nice! What about Marian? Who would take her part in a play?
STEIN:
Marian would be well played by Naomi Watts, who nearly matches her in beauty –though from the picture I was shown, this Naomi's breasts are too small and would not fill my hand as I like.
JEZ:
[BURSTS OUT LAUGHING]
STEIN:
Ari would be played by Simon Baker, who is very nearly his twin in all regards. And Torvald bears a strong resemblance to the player called Paul Bettany.
JEZ:
All terrific selections. Last question: if you could be evil for one day, and you were granted spiffy evil powers, what would the powers be and how would you use them?
STEIN:
I have seen too much of evil to want any part of it. But if the gods would grant me the power to overcome Cwen, I would accept it with thanks and make great sacrifices to honor them.
JEZ:
Well put indeed!
Avid Fans, give another round of applause to the hero of Lisa Hendrix's latest novel, IMMORTAL OUTLAW… Steinarr the Proud!
[APPLAUSE]
[No, this isn't the delectable Steinarr. But it is his Dear Creator, Lisa Hendrix.]
You can get IMMORTAL OUTLAW at Barnes and Noble, Borders, Flights of Fantasy and other independent booksellers, Amazon, and other bookstores near you.
That's it for this episode of Cat and Muse! Until next time: love your inner demon!