JEZEBEL:
Heya, Avid Fans! Welcome once again to Cat and Muse, the only Internet talk-radio show (that we know of) that's run completely by and about fictional characters. I'm your host, the former demon Jezebel, coming at you live from the sordid depths of Jackie Kessler's website. With me, as always, is the lovely, lamentable Muse of Tragedy, forced to speak in clichés and pop culture references…the Muse of Tragedy, Melpomene!
[APPLAUSE]
Hi, Mel!
MELPOMENE:
YO.
JEZ:
Our next guest would be the first to tell you Tinkerbell sold out. SciFi Guy declares: "Rosemary and Rue is a startling good debut novel and destined for my top 10 list for 2009." And Publishers Weekly says: "Well researched, sharply told, highly atmospheric and as brutal as any pulp detective tale, this promising start to a new urban fantasy series is sure to appeal to fans of Jim Butcher or Kim Harrison."
Boys and girls, give a hotter than hot welcome to the star of Seanan McGuire's debut novel, ROSEMARY AND RUE…October Daye!
[APPLAUSE]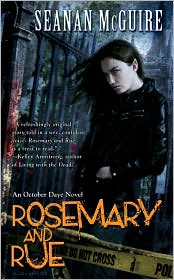 Heya, Toby!
TOBY:
Hi, Jezebel. Melpomene. Nice studio.
JEZ:
Thanks! Give me a one-line description of ROSEMARY AND RUE.
TOBY:
How about, "Faerie won't leave me the hell alone, not even when I take out a restraining order against it"?
JEZ:
Love it.
TOBY:
If I'm trying not to be flippant–and that's a first–then I'd have to go with "Faerie and the mortal world collide in San Francisco, with fatal consequences."
JEZ:
Hmm. I prefer the first version, although the "fatal consequences" part of the second is pretty nifty too. Sounds like there's some pretty dire stuff happening. What's the worst thing about your situation in the book?
TOBY:
I don't even know where to start. I mean, first off, what the hell was my mother even thinking, marrying a human man? How is that even remotely fair?
JEZ:
Heh. Don't know anything about fair, sweetie. But human men can be damn hot.
TOBY:
[SIGHS] Changeling kids get the worst of everything. We're not human, so we have to live in Faerie. We're not purebloods, so we get treated like crap. It's just not cool.
MEL:
PARENTS JUST DON'T UNDERSTAND.
TOBY:
Beyond that, there's the part where I'm 14 years out of my time period.
JEZ:
Um. What?
TOBY:
I got turned into a fish by an [BLEEP] with nothing better to do with his time.
JEZ:
Yikes.
TOBY:
Maybe that sort of thing was cool during, I don't know, the medieval times, when people wore the same shoes for 14 years, but the modern day? Not okay.
JEZ:
[GRINS] That's got to suck.
TOBY:
I don't know what a text message is, I don't understand why people keep trying to show me pictures of cats with stupid captions on them, and the next person who suggests I let some guy named Tivo mess with my TV is getting punched in the face.
JEZ:
[BURSTS OUT LAUGHING]
TOBY:
And have you seen what they're showing on VH1 these days? I go away for a decade, and you people invent reality television? It's all ridiculous.
JEZ:
Actually, reality television is a nefarious plot from the Lower Downs of Hell. But that's another story.
TOBY:
Has there been some sort of anti-fae campaign going on that I wasn't notified about? Because seriously. Tinker Belle has a television show now. And a movie. And a toy line. Barbie has a "magical fairy princess" version. Barbie, people. If you don't think that kind of merchandising is anti-fae, you've never had to deal with a full-grown Kelpie on the beach after sunset. Seriously, it's like there's a plot to convince mankind that we're harmless, thus allowing us to eat you all. [PAUSES] Actually…
JEZ:
Mel, take notes!
MEL:
[SCRIBBLES]
TOBY:
Insult to injury, I got fired from the 7-11 because I couldn't work the damn register, and just when I was starting to get my feet under myself again, Evening had to go and get herself murdered.
JEZ:
Evening. [SCANS NOTES] That's Countess Evening Winterrose, one of the secret regents of the San Francisco Bay Area.
TOBY:
[NODS] Now she's dead, and it seems like everybody in San Francisco is trying to kill me, too. And I keep running out of coffee.
JEZ:
Ouch. Well, with all that crap, there's got to be something good.
MEL:
A SILVER LINING.
JEZ:
Right?
TOBY:
Uh…coffee's pretty easy to find in San Francisco, even at two o'clock in the morning?
JEZ:
Well, yeah. That counts.
TOBY:
Also, my apartment's pretty cool. I like my apartment. And my cats. I like my cats. Even if they do wake me up all the damn time.
JEZ:
Yeah, my Dear Creator could whine with you about that one. What's your standard outfit?

TOBY:
Jeans. Running shoes. Good socks. Cotton shirt, in a color that won't show the blood. Dressing fancier than that is just asking for trouble.
JEZ:
Heh. What wouldn't you be caught dead in?
TOBY:
Every time I say "oh, I wouldn't be caught dead in that," I wind up wearing it a chapter later. I no longer answer that question, on the grounds of almost anything I won't be caught dead in is impossible to run in, which could make the death part way too literal for me.
JEZ:
[CHUCKLES] Gotcha. Okay, spill. You and Connor. Who's on top? Or are there other preferred positions?
TOBY:
Connor's married. Also, he's married. He's married to my liege lord's daughter. He's married to a crazy woman. And oh, yeah, he's married. And it wouldn't have worked out anyway.
JEZ:
Of course not.

TOBY:
He's a Selkie, he's probably into girls who surf, and wear wetsuits, and know how to swim. [PAUSES] But I'd totally be on top. That boy wouldn't know what hit him.
JEZ:
Now that's what I'm talking about! So what's your romantic fantasy?
TOBY:
…
JEZ:
[SMILES] Feel free to be as graphic as you want.
TOBY:
Uh, okay. I didn't realize this was going to be that sort of show. Does the FCC not care anymore or something?
JEZ:
We have a deal.
TOBY:
Uh, right. Anyway. My romantic fantasy…at this point? My romantic fantasy is a guy taking me to dinner, during which no one will get shot at, stabbed, attacked, or harassed in any way by dark forces beyond our control. He'll then pay the check, and we'll go back to his place for coffee, some sort of really unhealthy dessert, and wall-shaking, window-rattling, I-don't-care-if-it's-almost-dawn, pass-the-whipped-cream, wake-the-neighbors sex. [PAUSES] My neighbors get a lot of sleep. I hate my neighbors.
JEZ:
Which is better: sex or chocolate?
TOBY:
Right now, since sex would probably end with Rayseline showing me my own liver, definitely chocolate.
JEZ:
That's Connor's wife, I take it. Yeah, liver isn't as yummy as chocolate, especially when it's your own. So, in ROSEMARY AND RUE, were there any parts of the story where you were like, Seanan, sweetie, what the Hell are you making me do?
TOBY:
The. Whole. Damn. Book. She has this thing about putting me through hell that's just like, really? Really? If I ever find her in a dark alley, she's going to learn exactly how much "fun" the crap she does to me really is.
JEZ:
If you had your way, what would you change about ROSEMARY AND RUE?
TOBY:
I really don't know. If I had my way, I'd be 14 years older and things would have been so damn different that it wouldn't even be the same book. Assuming I can't have that, I'd…make Connor not be married, make Evening tell me what was going on before things got as bad as they did, and make Tybalt not be a flaming [BLEEP].
JEZ:
Readers will have to learn who Tybalt is all on their very own. If you could make Seanan do anything, what would it be?
TOBY:
I'm assuming "die" is out of the question.
JEZ:
Er…
MEL:
DEATH BE NOT PROUD.
JEZ:
My lawyers will not allow me to answer that question anymore.
TOBY:
In that case, I'd make her spend a week getting the amount of sleep she lets me have. Maybe after that, she'd work mid-chapter naps into the next one.
JEZ:
Wouldn't that be nice? Tell me one thing in the real world that you wish you could change.
TOBY:
I would kill the San Francisco tourist industry the way you kill a large spider: vigorously, thoroughly, and with the biggest shoe I could find. The city would suddenly be filled with free parking, available reservations at places that weren't McDonalds, and sidewalks you could actually walk on. [SMILES] I would be hailed as a hero. They might even declare a public holiday in my honor.
JEZ:
Trust me, the public holiday thing is fraught with peril. What about in the publishing world–what would you change?
TOBY:
All series with lead characters named after months of the year by uncaring mothers would come with guaranteed publication contracts for however many books it takes the damn author to give said lead characters a little peace.
JEZ:
Hah! If ROSEMARY AND RUE goes Hollywood, who should play you in the movie?
TOBY:
According to Quentin–he's pretty good about this stuff–Molly Ringwald is too old now, and I'm not allowed to say Kristy Swanson. He suggested some chick named Kristen Bell? Apparently there's a resemblance? That, or he's messing with me, and I'll pour coffee on him later.
JEZ:
What about Connor? Or Tybalt?
TOBY:
Connor would totally need to be played by this Adam Brody guy I saw on a rerun last week, since they both spend a lot of time looking like kicked puppies, and for Tybalt…I have no clue. What's Jensen Ackles doing right now?
JEZ:
Sweetie, after the show, I have to talk to you about something called Supernatural. Finally, if you could be evil for one day, and you were granted spiffy evil powers, what would the powers be and how would you use them?
TOBY:
I'd be one of those crazy changelings they used to warn me about when I was a kid, the ones with all the bang and none of the common sense–unlike me, where I got way too much sense, and no damn bang to speak of–and I'd hunt down every person who's ever annoyed me, turn them all into frogs, and leave them in a damn pond for a decade. See how they like it. And then I'd go visit my author. [GRINS] I'd be awesome.
JEZ:
Yeah, sweetie, you totally would. So, stick around after the show, and we can talk about why the Dark Side is reported to have cookies.
Avid Fans, give another hotter than hot round of applause to the star of Seanan McGuire's debut novel, ROSEMARY AND RUE…October Daye!
[APPLAUSE]
You can get ROSEMARY AND RUE at Barnes and Noble, Borders, Flights of Fantasy, Mysterious Galaxy, other independent booksellers, Amazon, and other bookstores near you.
That's it for this episode of Cat and Muse! Until next time, love your inner demon.