JEZEBEL:
Heya, Avid Fans! It's time once again for Cat and Muse, coming at you live from the sordid depths of Jackie Kessler's website. I'm your host, the former demon Jezebel. With me, as always, is the very wicked, and very wretched, cliché-speaking and pop-culture referencing Muse of Tragedy. Boys and girls, say hello to the producer of Cat and Muse…Melpomene!
[APPLAUSE]
Hi, Mel!
MELPOMENE:
YO.
JEZ:
Our next guest makes me long for home…or, specifically, long for an incredibly hot, sexy, smoking demon to come inhabit my body. Publisher's Weekly calls Michelle Rowen's latest book "funny, suspenseful, and frequently hot paranormal series launch." And RT Magazine declares in a 4.5 star review: "The Living in Eden series starter is funny, sexy and completely entertaining. Rowen writes charming, believable and seriously funny heroines and then weaves a dark tale of intrigue around them. Watching Eden resolve her internal conflicts while struggling to stay alive and manage her attraction to the demon that possesses her is just magic. Can't wait for more! It promises to be a fantastic series."
Avid fans, give a huge round of applause to one of the stars of Michelle Rowen's latest novel, THE DEMON IN ME…the demon Darrak!
[APPLAUSE]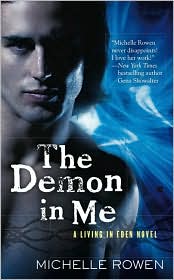 Hellllllllllllllllo, Darrak! Come here often?
DARRAK:
Is that a real question or are you hitting on me? I'm fine either way.
JEZ:
This is going to be a terrific interview. I have a knack for knowing these things. So, sweetie, why don't you tell us what THE DEMON IN ME is about. Other than you, of course.
DARRAK:
I'll try my best, although that might be difficult. A psychic gets possessed by a really demon — a really hot demon, if I do say so myself.
JEZ:
Agreed!
DARRAK:
They need to find a way to live and work together to find a mutually beneficial solution to their problem, or there'll be hell to pay.
JEZ:
Ooh, a plug! Hell to Pay, a serialized novel right here on my Dear Creator's website! Ooh, you're a clever demon, aren't you?
DARRAK:
[WINKS] And proud of it, thank you very much.
JEZ:
So tell me more about yourself. How does a hot thing like yourself come to be trapped in a human psychic's body? And is she willing sign you over for a time-share?
DARRAK:
Don't know about that. Let's see… it all started 300 years ago when I was cursed by a vengeful witch.
JEZ:
Are there any other kind?
MEL:
ARE YOU A GOOD WITCH, OR A BAD WITCH?
JEZ:
Any other kind outside of Oz, that is?
DARRAK:
Witches come in the good and evil categories in my world. This was a bad one. Ever since, I've been forced to possess human bodies.
JEZ:
I have to tell you, I never was able to do possession when I was a demon. I feel sort of deprived.
DARRAK:
Don't be. The movies always show possession from the humans' point of view, like "Wah wah, I'm possessed by an evil demon. I need to get it out by any means possible." But they never show the demon's point of view. You think this situation is pleasant in any way?
JEZ:
[BLINKS] It's not?
DARRAK:
Nope. It blows not being in control of your existence, and having to rely on a succession of humans — most of whom can't even hear me enough to get scared.
JEZ:
Oh. Yeah, that would take the fun out of it. If you can't scare them, then what's the point? Unless you can force them to do things, like masturbate in public…
DARRAK:
[LAUGHS] No comment on that. However, Eden's way different.
JEZ:
She's your latest possessee, right?
DARRAK:
[NODS] Uh huh. She can hear me. She can do more than hear me. For the first time in three centuries I'm possessing someone who knows I exist and isn't freaking out about it.
JEZ:
Seriously?
DARRAK:
Yeah. Okay, she did freak out to begin with, but she's starting to, uh, settle down a bit. She wants to help me — mostly because I begged her to and made a few deals about how I could help her out in her life.
MEL:
DEAL WITH THE DEVIL.
JEZ:
Hey, business is business. It doesn't sound so bad — right, Darrak?
DARRAK:
Since Eden is psychic, I'm somehow — and don't ask me how — able to draw on that energy to take solid form during daylight hours, even though I'm still bound to her side and can't wander off too far.
MEL:
ATTACHED AT THE HIP.
JEZ:
Bless me, if I were her, I'd stay in bed all day. All day.
DARRAK:
[GRINS] With Eden, this is a chance for me to fix the mess I've gotten into once and for all, and I'm not going to waste it.
JEZ:
For a cursed demon who's forced to possess a woman's body every night, you sound quite all right with the situation.
DARRAK:
She's gorgeous. If I have to stare at a human's face every time Eden looks in the mirror, I'm surprisingly okay with it being hers.
JEZ:
Heh, gotcha! So what does a trendy demon who isn't me wear these days?
DARRAK:
Being that half the time I'm incorporeal and resemble a much more charming version of the smoke monster from Lost, any clothing is a bonus. I usually conjure jeans and a T-shirt, since that's relatively simple and doesn't drain my energy reserves too much. [SHRUGS] Eden wants to take me shopping for new threads, but I've resisted so far. Otherwise, she might turn me into a total clothes-whore metrosexual.
MEL:
NOT THAT THERE'S ANYTHING WRONG WITH THAT.
JEZ:
Okay, spill. You and Eden. Who's on top? Or are there other preferred positions?
DARRAK:
Well, I can tell you who's inside. Me. Frequently.
JEZ:
[SNORTS LAUGHTER]
DARRAK:
[LAUGHS] Eden hates that joke, but it's true. Hell, after 300 years without a body or any sex, I'll take any position I can get. Standing, sitting, on my head. Bring it.
JEZ:
Now we're talking! What's your romantic fantasy, sweetie?
DARRAK:
Romantic fantasy? [PAUSES] Every morning, I'm able to take human form in Eden's bed, and she immediately reaches for me in her sleep, even though she claims she isn't interested in me like that and she's hot for another guy. For the few minutes before she wakes up and realizes that she's molesting a naked demon is romantic fantasy enough for me.
JEZ:
Bless me, a demon after my own sex drive! All right, here's the tough question. Which is better: sex or chocolate?
DARRAK:
Sex. However, I've recently discovered chocolate donuts, and I have to say that's a close second.
JEZ:
You, Darrak, may be the perfect demon. [FANS SELF] So, in THE DEMON IN ME, were there any parts of the story where you were like, Michelle, sweetie, what the Hell are you making me do? Or were you and your Creator in sync the entire time?
DARRAK:
I've heard from some others that Rowen is a merciless hell-bitch when it comes to torturing her characters. And that everything she's learned from her previous books she's applied to my situation. [PAUSES] And she has. I'm tortured, emotionally and physically. Just because she lets me have a little bit of fun now and then doesn't mean that I'm totally okay with everything. [GLARES AT COMPUTER SCREEN] Hey, Rowen — just know that pissing off a demon isn't a good idea, mm'kay?
JEZ:
[SIGHS] Sweetie, trust me, they don't listen. They never listen. If you had your way, what would you change about THE DEMON IN ME?
DARRAK:
More sex. Less pain.
JEZ:
I did mention you're basically the perfect demon, didn't I? If you could make your Creator, Michelle Rowen, do anything, what would it be?
DARRAK:
Write more books about me and Eden so I can explore my softer side.
JEZ:
Heh. Tell me one thing in the real world that you wish you could change.
DARRAK:
Fewer exorcists.
JEZ:
Good call. What about in the publishing world?
DARRAK:
That THE DEMON IN ME would become the next Twilight. I'm already in talks with some old friends downstairs to see if I can make that happen. [GLANCES AT COMPUTER SCREEN] Rowen, you're not afraid to barter part of your soul to facilitate this, are you?
MICHELLE:
[OFF SCREEN] I'm okay with that. Let's do lunch.
JEZ:
Score! Let's say your negotiations are hugely successful and THE DEMON IN ME goes Hollywood. Who should play you in the movie?
DARRAK:
I'm not sure anyone can play me properly. Maybe a bit of Ryan Reynolds — his charming and amusing manner, plus his ripped abs — and a dash of Johnny Depp's dark good looks.
JEZ:
Yum. What about Eden?
DARRAK:
For Eden, an actress like Cameron Diaz might be able to partially encompass her beauty, personality, and deliciously possessable body.
JEZ:
Nice. Okay, last question…now, understand that I'm contractually obligated to ask this.
If you could be evil for one day, and you were granted spiffy evil powers, what would the powers be and how would you use them?
DARRAK:
[BLINKS] I'm a demon.
JEZ:
[SIGHS] I know, I know. It's in the fine print. Got to ask. Roll with it, would you?
DARRAK:
[GRINS] Whether or not I'm actually evil and what I can do with my powers is something you're just going to have to read the book to find out.
JEZ:
Hah — touché!
Avid Fans, once again give a round of applause to one of the stars of Michelle Rowen's new novel THE DEMON IN ME…the demon Darrak!
[APPLAUSE]
[No, this isn't Darrak. But it is his Dear Creator, Michelle Rowen.]
THE DEMON IN ME, which recently hit the shelves, is available at Barnes and Noble, Mysterious Galaxy, other independent bookstores, Amazon.com, and other fine bookstores near you.
Until next time, remember: love your inner demon. Especially if they're as hot as Darrak.