Monster Mash
JEZEBEL:
Heya, Avid Fans! Welcome once again to Cat and Muse, the only Internet talk-radio show (that we know of) that's run completely by and about fictional characters. I'm your host, the former demon Jezebel, coming at you live from the sordid depths of Jackie Kessler's website. With me, as always, is the lovely, lamentable Muse of Tragedy, forced to speak in clichés and pop culture references…the Muse of Tragedy, Melpomene!
[APPLAUSE]
Hi, Mel!
MELPOMENE:
YO.
JEZ:
I have been angling to get our next guests here for years. YEARS. Why? Bless me, they're every former succubus's wildest dream, that's why! One is half-human, half-monster, and all attitude — his knife is his security blanket, and he boinks a homicidal werewolf when he's frustrated. The other…well, as for him, I don't know which is more impressive: his body count or the notches on his belt. [FANS SELF]
In a four-star review of ROADKILL, RT declares: "Thurman is a master at delivering raw emotion and uncompromising danger spiced with just the right touch of sarcastic humor. Unforgettable!"
Bless me, the Leandros brothers are unforgettable, all right! Not to mention that delicious puck! Boys and girls, give a hotter than hot welcome to two of the stars of Rob Thurman's latest book in the Cal Leandros series, ROADKILL …Cal Leandros and Robin Goodfellow!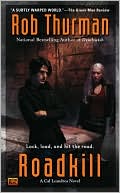 [APPLAUSE]
Hellllllllllllllo, boys!
ROBIN:
Oh, I'm a delicious puck all right. I have references [FLASHES BLINDING GRIN]. Would the first 300,000 be enough? And hello back…or front. I'm all kinds of adaptable.
JEZ:
This is going to be a terrific interview.
CAL:
Christ, why in the hell did I agree to this?
JEZ:
[WAGGLES EYEBROWS] My female wiles.
CAL:
Yeah. Hello. Please don't screw in front of me.
JEZ:
[LEANS FORWARD] Sweetie, I'm a team player. Want to take one for the team?
CAL:
Can I get a beer? A keg? Something?!
JEZ:
Hee. Definitely a terrific interview! Now, I'm happy to just sit and stare at the pair of you — well, no, I'd be happier doing much more physical things with the pair of you, either individually or simultaneously — but our viewers should probably learn a thing or two about your latest escapades. So tell me, boys: what's the hook for ROADKILL?
ROBIN:
That's beyond simple. I'm in it.
CAL:
Dude, the series is called The Cal Leandros Novels, not The Horny, Motor-mouth Puck Series. My series, my book.
ROBIN:
Do you have an amazing body? Did you party with Bacchus, Cleopatra, Alexander the Great, and Caligula? Are you so well-endowed that when you walk the street you need a car with sirens in front of and behind you to warn the populace at large?
JEZ:
Bless me, I think I just wet my panties.
CAL:
I have this. [PULLS OUT DESERT EAGLE FROM SHOULDER HOLSTER] And a brother who will kick your ass.
ROBIN:
[GRINS] A hot brother who can do whatever he wants to my ass.
CAL:
A hot brother who…shut up! This is my series, my book, now let me answer the goddamn question.
ROBIN:
[MIMES ZIPPING HIS MOUTH CLOSED]
CAL:
[TO JEZ:] The book features an anti-healer called the Plague of the World, and he makes Stephen King's flu that wiped out most of humanity in the Stand look like [BLEEP] hay fever. [BLINKS] Did I…was I just [BLEEP] BLEEPED?
JEZ:
[SHRUGS] Sorry, sweetie. If you want, we can do things to fill the seven-second delay…
CAL:
Man, this is going to be one [BLEEP] [BLEEP] filled show. My ears hurt already. [GLANCES AT MEL] Can I get some Tylenol with that goddamn beer?!
MEL:
WHAT'S THE MAGIC WORD?
CAL:
[BLEEP] me. [SIGHS] Yeah, killer diseases wherever you look in this book.
JEZ:
Ugh, plagues. [SHUDDERS] Nasty stuff.
ROBIN:
[UNDER HIS BREATH] Four hot guys packed in a car chasing down a bad guy.
JEZ:
Mel, you remember what the Black Plague did to Europe?
MEL:
[NODS] RING AROUND THE ROSY.
ROBIN:
[LOUDER] Four hot guys packed in a car chasing down a bad guy.
JEZ:
[TO ROBIN] Say what now?
ROBIN:
Four hot guys. Packed in a car. Driving across country. [ELBOWS CAL] You suck quite egregiously at marketing. Which is precisely why I came along. [GRINS AT JEZEBEL] This one is so vanilla, you could serve him up in a waffle cone. It's pathetic.
JEZ:
Sweetie, I loooooooove vanilla. It's lickably good. Especially with chocolate syrup dribbled just over his—
CAL:
HEY!!! Isn't there another question?
JEZ:
Of course. [CLEARS THROAT] What's the worst thing about your situation in the book?
CAL:
[GLARES AT ROBIN] Four guys. Packed in a car. Driving across country.
JEZ:
[BURSTS OUT LAUGHING]
CAL:
And being at the mercy of a killer who could drop us before we ever even saw him. The fact that I almost died twice wasn't a high point, either.
ROBIN:
Please. Like you don't almost die every time we turn around. Then Niko worries over you, goes into blond ninja/samurai mode to protect you. [IN GROWLY BARITONE] "Hurt my brother and I'll take your head with my katana. Die, you malevolent bastard. Die. I am Inigo Montoya. You stepped on my brother's pinky toe. Prepare to die."
JEZ:
[ROLLS ON THE FLOOR, HELPLESS WITH MIRTH]
ROBIN:
Bromance to the max. You could slip in the pools of angst lying about and throw your back out. Literally. I have a chiropractor on call 24/7.
JEZ:
[SITS BACK ON CHAIR] Bless me, I think I'm in love. Serious, sweaty, angsty love.
MEL:
ON WITH THE SHOW.
JEZ:
All right, all right. [READS CUE CARD] Gentlemen, what's the best thing about your situation?
CAL AND ROBIN:
Salome.
JEZ:
[BLINKS] The mummified dead cat?
CAL:
Hey, when that mummified dead cat has the highest body count in one chapter, props to her wrinkly ass.
ROBIN:
I named her after the Biblical Salome. She was a bit of a bitch, too.
JEZ:
[NODS] Oh, totally.
ROBIN:
"I want John the Baptist's head on a platter. Bring me John the Baptist's head on a platter. Where's that platter?" [SNORTS] I offered her my [BLEEP] on a platter, still attached of course, but was that good enough? Nooooo.
CAL:
Dude, they just bleeped your [BLEEP].
JEZ:
Yeah, my Dear Creator is a bit of a prude. You'd never know it from the stuff she writes. What's your standard outfit?
CAL:
Jeans, black jacket…even in the summer, which is a bitch. But I have lots of guns and knives and the occasional grenade to cover up. And an antisocial T-shirt that lets people know I'm badass, sarcastic, and not to be [BLEEP] with. The clothes save on conversation that might lead me to beating the [BLEEP] out of someone.
JEZ:
Aw. Don't you like body language?
CAL:
I find conversation of any kind fairly boring unless weapons are involved. I like weapons and I really like using them. A lot. I blame my inner rage on—
ROBIN:
On being half monster. Blah blah. "Woe is me. I'm half of a creature so murderous that it wiped out the dinosaurs, not a meteor." [SIGHS] We get it. You have random fits of homicidal rage, which makes you oddly more attractive to the younger crowd.
JEZ:
And the older crowd. Yum.
ROBIN:
You're a lost soul touched with an inner shadow walking a dark road, your sarcasm a defense against your almost hidden vulnerability. [PAUSES] Damn, that does make you hot.
JEZ:
Very. Very. Hot.
CAL:
[GRITS] I am so glad I stab you with a fork in Book Six. So, so glad.
JEZ:
Ooh! Mel, prep the Spoilalert!
ROBIN:
Er. Where were we? Ah, right. Clothing. If it's not Armani or Italian, then I don't wear it. Although back in the day, I knew how to wear a toga. [GRINS] I also knew how to wear an oiled up Spartan, but that's a different story.
JEZ:
Robin Goodfellow, stick around after the show, and then prepare to tell me that story. [SMILES] With pictures. Meanwhile, what wouldn't you be caught dead in?
ROBIN:
Anything Caliban here would wear.
JEZ:
Cal, put the knife down. Boys, tell me one ridiculous thing about your situation.
CAL:
[WAVES HAND AT ROBIN] All yours.
ROBIN:
[CLEARS THROAT] I may have certain…issues regarding my pansexual state.
JEZ:
Issues?
ROBIN:
Should I try monogamy, as ludicrous and against man-and-nature as that seems?
JEZ:
That's easy. Hell, no.
ROBIN:
Somehow or another, and I must keep the details sparse as his brother is all noble…
JEZ:
And hot.
ROBIN:
And hot…and private…and sexy as Hades…
JEZ:
[TO MEL] Mel, make sure to book Niko on a show. In private.
ROBIN:
If I spill any real details, he will hunt me down and de-puckify me.
JEZ:
I think you're exaggerating.
CAL:
[SHAKES HEAD SLOWLY]
ROBIN:
Let us just say one night in a motel sharing a room with me ended up with Niko locked in the bathroom, dagger wedging the door shut. I had to settle for unrequited sleep, although with excellent dreams…you know the kind I mean. [WINKS]
JEZ:
Yum!
ROBIN:
I had to tip the maid extra for the condition of the sheets the next day.
JEZ:
I bet. Okay, Calicious. This one's for you. When it's you and your werewolf girl, Delilah, getting frisky, who's on top? Or are there other preferred positions?
CAL:
Any way I can get it, I'm happy as….
ROBIN:
[SIGHS LOUDLY] Yes, yes. You're half monster. Again, we've heard this. You can't risk bringing another like you into the world, and apparently you think your sperm is armor-piercing as you trust no condom. So you had to find someone unable to have children. You very much lucked into a werewolf with a hysterectomy. Talk about putting Match dot Com through its paces.
CAL:
[IGNORES ROBIN] But as she's a werewolf, doggy style is out. That takes it to a weird place. And she's a friend with benefits. When you have a friend with benefits who's in the werewolf mafia and as soon kill you as get a manicure, most positions are back to the wall, eyes on the claws.
JEZ:
[FANS SELF] Oh, Caliban. The things I could do with you…What's your romantic fantasy?
CAL:
[LOOKS DOWN, MUMBLES SOMETHING INDECIPHERABLE]
ROBIN:
Something something true love something something. [GRINS] I never should've made him watch Princess Bride, but Cary Elwes was in his prime.
JEZ:
Mmmm. Cary Elwes.
MEL:
AS YOU WISH.
JEZ:
So Robin, how about it? What's a puck's romantic fantasy?
ROBIN:
Mine would be…hmmm, done orgies, done identical twins, done identical triplets, done it with a centaur…that's called barebucking, if you're curious.
JEZ:
Good to know.
ROBIN:
My fantasy right now is having sex while flying.
MEL:
LEAVING ON A JET PLANE?
ROBIN:
[SMILES WISTFULLY] I have a thing with a retired angel named Ishiah. Sex up in the night sky, wings, feathers, stars.
JEZ AND MEL:
[SIGHS DREAMILY]
ROBIN:
Zeus, I'm pathetic. My penis will disown me. It's the orgy scenario, I swear. Five men, five women and a vat full of honey. Brazilian waxes all around for obvious reasons.
JEZ:
Heh. Don't worry, sweetie. We won't tell anyone that you're a romantic. Which is better: sex or chocolate?
CAL:
I can't have both? Goddamn it. I swear the universe plots to ruin my good time. [BLEEP] [BLEEP] universe.
ROBIN:
There's this tiny Swiss store…it makes Chocolate Bunnies…and not the kind that go in Easter baskets. They're sex dolls made out of chocolate.
JEZ:
[SWALLOWS THICKLY] You're joking. You're just being mean to a former demon.
ROBIN:
Dark, milk, white, even mint…now the mint can sting somewhat, but to get your true perv on, one must suffer for the art.
JEZ:
Naughty chocolate? Oh sweet Sin…the things you and I could do with that chocolate…
JACKIE:
[OFF CAMERA] For [BLEEP] sake, Jezebel, stick to the damn script!
MEL:
[SIGHS] AND NOW, A WORD FROM OUR SPONSOR.
JEZ:
Ah, ignore her. Kessler's just uptight because she's got another Hell short story to write, and it's not about me. So, in ROADKILL, were there any parts of the story where you were like, Rob, sweetie, what the Hell are you making me do? Or were you and your Creator in sync the entire time?
CAL:
I don't want to talk about it…but it involved Goodfellow being nude.
ROBIN:
I really do not want to talk about it…but it involved a Walmart. My nudity, however, was the high point.
JEZ:
If ever there were a reason to buy ROADKILL, that's it. If you could make Rob do anything, what would it be?
CAL:
Live ten pages of the [BLEEP] she puts me through.
JEZ:
I take it she gets under your skin?
CAL:
I'm dark, I'm brooding, I'm sarcastic, I'm broken…I have "Save me" written all over me. Women mail me their underwear. I have invitations for threesomes with me and my brother. I have female artists mailing me pictures of what they think I look like nude. I'm stuck in a book! I can't hit any of that! That's pure [BLEEP] evil!
JEZ:
As one fictional character to another, sweetie, I'm thrilled to tell you…and show you…that you have options.
JACKIE:
[OFF CAMERA] JEZEBEL…
JEZ:
[SIGHS] Freaking Creators. God complexes, the lot of them… Boys, tell me one thing in the real world that you wish you could change.
ROBIN:
The price of body oils are outrageous.
JEZ:
I know, isn't it criminal?
ROBIN:
Can we get off the banking/loan problems and have some government intervention with that?
JEZ:
What about you, Calicious? What would you change?
CAL:
Legalize automatic weapons. Do you know how hard it is to take down a Boggle or Troll with a handgun? They're nine [BLEEP] feet tall!
JEZ:
Heh. If ROADKILL goes Hollywood, who should play you in the movie?
ROBIN:
Clooney.
CAL:
He looks older than you.
ROBIN:
Clooney.
CAL:
Seriously, dude, at least twenty years older than you. He doesn't have light brown hair or green eyes, either. He doesn't look remotely like Pan or Puck.

ROBIN:
CLOONEY.
CAL:
Spike? John Barrowman? Stuart Townsend? What about Matthew McConaughey? He never wears a shirt. God knows that's a philosophy you can embrace.
ROBIN:
Well, maybe…but only if Clooney isn't available.
CAL:
Delilah could be played by that chick Sierra, Dichen Lachman, of Dollhouse. Blonde, Asian, and kick ass. Or Miho from Sin City could bleach her hair. Miho is…damn. And for me…ummm…I dunno. Can I be a Terminator?
JEZ:
No. Real actor.

CAL:
Hey, how about Joaquin Phoenix? He was [BLEEP] crazy in Gladiator. He's [BLEEP] crazy in real life. Shave his rabbi beard, stick a wig on him and there you go. If he can do Johnny Cash, he can do anyone.
ROBIN:
As for Niko, your sexy blond brother with the Roman nose, the long braid, the martial arts body, the finely sculpted ass of a….
CAL:
[SLAPS HAND OVER ROBIN'S MOUTH] We'll skip Niko.
JEZ:
Ooh, a man who knows how to use his hands! Last question: If you could be evil for one day, and you were granted spiffy evil powers, what would the powers be and how would you use them?
CAL:
Um…yeah. Did you scan my bio before inviting me?
JEZ:
I did. [PURRS] I loved it.
CAL:
I am sort of evil.
JEZ:
I know.
CAL:
I have an evil power.
JEZ:
[SIGHS DREAMILY] I know.
CAL:
I've ripped out Auphe throats with my teeth. Not something you like to explain to your dentist. Maybe you should ask me what I would do if I could be good for one day.

JEZ:
Mmmm. Maybe I should ask you what I could do to you that would feel good all day…
Avid fans, give it up — in every possible way — for two of the stars of Rob Thurman's latest book, ROADKILL…Cal Leandros and Robin Goodfellow!
[APPLAUSE]
[No, this isn't Cal and Robin. But it is their Dear Creator, Rob Thurman…possibly with Delilah.]
The Cal Leandros series includes:
NIGHTLIFE
MOONSHINE
MADHOUSE
DEATHWISH
ROADKILL
The Trickster series debuted with TRICK OF THE LIGHT.
And coming soon, an all-new angsty brother sci-fi series kicks off with CHIMERA.
That's it for this episode of Cat and Muse! Until next time—love your inner demon.